While snoring is a common problem for many people, it can also be a sign of other major health complications. It is estimated that more than 80 million people in North America snore while sleeping, which not only affects the quality of sleep of the person snoring, but also the quality of sleep of their loved ones and other family members. Luckily, there is a way to treat chronic snoring.
Snoring can be the result of several factors. Typically, snoring is caused by the relaxing of the muscles and soft tissues in the throat and mouth, making the air passage smaller. The decrease in space through the airway makes it harder for each breath to get through, and when it does get through, it moves over the soft tissues in the mouth and throat and causes a vibration that results in the snoring sound. Other causes of snoring may include: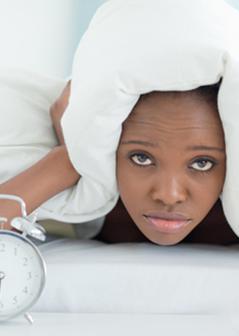 What is a Mandibular Advancement Device?
If you snore at night, then a mandibular advancement device (MAD) may represent a solution and a better night's sleep! The MAD is a specially designed dental device that gently helps keep the lower jaw, or mandible, in a forward position, increasing the space between the airway passage and helping you breathe better so you can get a full, quiet night's sleep.
Some devices also stop the tongue from falling back over your windpipe. Your dentist will fit these special appliances to meet your individual condition.
The answer is simple — YES! A mandibular advancement device is made to be comfortable, so that you can sleep without even noticing you're wearing it. It does not prevent you from breathing with your mouth open and will even eliminate snoring for patients with sinus congestion or allergies. You may experience some slight stiffness of the jaw for the first few mornings after wearing the device, but this feeling is only temporary, and will go away after you wake up and remove the device.
To learn more about a mandibular advancement device, contact our practice and schedule an appointment and consultation.
Sleep apnea is a condition in which your breathing stops periodically during sleep, as many as 20-30 times per hour. Each time you stop breathing in your sleep, the resulting lack of oxygen alerts your brain, which temporarily wakes you up to restart proper breathing. Since the time spent awake is so brief, most people with sleep apnea don't remember it, and many believe they are getting a good night's sleep when, in fact, they are not. The constant wake-sleep, wake-sleep cycle prevents those with sleep apnea from achieving deep sleep, resulting in a constant drowsy feeling during the day.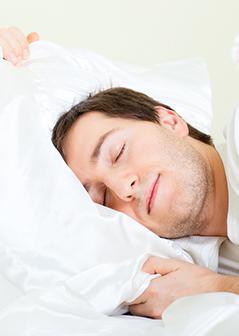 What are the signs of sleep apnea?
The following symptoms can indicate the presence of sleep apnea. If you notice one or more of these, contact our practice.
What are the signs of sleep apnea?
Are there different types of sleep apnea?
There are three categories of sleep apnea. The most common is called obstructive sleep apnea (OSA), and occurs due to a physical blockage, usually the collapsing of the soft tissue in the back of the throat. Less common is central sleep apnea (CSA), in which breathing stops because the muscles involved don't receive the proper signal from the brain. And some people suffer from "mixed" or "complex" sleep apnea, which is a combination of obstructive and central.
What are risk factors for sleep apnea?
Obstructive sleep apnea is more common in males than females, and more common in older adults (40+) than younger adults and children. However, anyone — regardless of gender or age — can suffer from sleep apnea. Other risk factors include obesity, smoking, drinking, use of sedatives or tranquilizers, and family history. Central sleep apnea strikes most often in people with heart disorders, neuromuscular disorders, strokes, or brain tumors.
Is sleep apnea dangerous?
Sleep apnea is considered a serious medical problem and if left untreated it can lead to high blood pressure, increasing the risk of heart failure and stroke. The ongoing state of fatigue caused by sleep apnea can lead to problems at work or school, as well as danger when driving or operating heavy machinery. Sleep apnea can also cause complications with medication or surgery; sedation by anesthesia can be risky, as can lying flat in bed after an operation. If you know or suspect you suffer from sleep apnea, let your family doctor know before taking prescribed medication or having surgery.
How is sleep apnea treated?
Treatments for sleep apnea depend on the severity of each individual case, and the type of apnea. Basic treatment can be behavioral — for instance, patients are instructed to lose weight, stop smoking, or sleep on their sides instead of on their backs. Beyond that, oral devices can be used to position the mouth in such a way that prevents throat blockage. In more severe cases, surgery may be the best option.
What should I do if I suspect that someone in my family suffers from sleep apnea?
Contact our practice, and we can refer you to a sleep apnea specialist. The specialist may recommend a sleep study to diagnose the precise extent of the problem, and can prescribe appropriate treatment. Depending on your situation, treatment may involve an oral device that we can custom-create for you.
Temporomandibular Disorder (TMD)
Millions of Americans suffer from chronic facial and neck pain as well as recurring headaches. In some cases, this pain is due to Temporomandibular Disorder, or TMD.
Your temporomandibular joints (TMJ) connect your lower jawbone to your skull. These joints get a lot of use throughout the day as you speak, chew, swallow, and yawn. Pain in and around these joints can be unpleasant and may even restrict movement.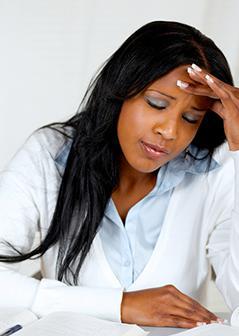 Should you notice any of these symptoms, let your doctor know. Your dentist can help indicate the presence of TMD and create an effective treatment just for you.
There are a few simple steps you can take at home or work to prevent TMD from becoming more severe, or to prevent it from occurring:
Relax your face — remember the rule: "Lips together, teeth apart"
Avoid grinding your teeth
Avoid constant gum chewing
Don't cradle the phone receiver between your head and shoulder — either use a headset or hold the receiver in your hand
Chew food evenly on both sides of your mouth
Do not sit with your chin rested on your hand
Practice good posture — keep your head up, back straight, and shoulders squared
Always a good appointment! So fun seeing all my sweet, cute and funny girls! Dr. Gunderson is very thorough.

Carole Burinsky
17:06 27 Sep 23
They are great at Gundetson. Kerry did an excellent job cleaning my teeth. No easy chore.

Ronald Sergi
16:56 27 Sep 23
The staff and dentist at Gundersen Dental Care are professional, knowledgeable, have excellent communication/listening skills, and put the patient at ease when working with them. They explain technical details in plain-speak so the patient can easily understand their dental issue. I highly recommend this dentist office to anyone seeking a new dentist or wanting a second opinion of a complicated dental issue.

Mary-Lou Owen
16:05 27 Sep 23
Great staff! Positive and friendly and professional! My dentist for 49 years!

Dave Williams
14:00 27 Sep 23
Kerry and the rest of the staff are great. Dr. Gunderson does great work also.

Totally comfortable. Very thorough.

Mona Frisk
14:03 22 Sep 23
Dr Gunderson and his team are very knowledgeable, professional and helpful. They are always positive and ready to solve any problem. My Wife & I do not admit this lightly, as we loved and personally knew our previous Dentist (Dr Meyers) who was a tremendous artist Dentist, but now retired. We definitely recommend Gunderson and His Staff. Thank You, LeRoy & Karon

LeRoy Sweet
17:55 21 Sep 23
Very graceful for the excellent service they provided me. They got me in quickly and help me through the process of getting my appointment for a root canal. Thank you

Dorothy Seibold
15:37 21 Sep 23
I have always had a positive experience at Gundersen Dental. The office staff is always friendly and helpful. Dr. Arnie is skilled and uses the most current technology in dental care. I highly recommend this dental practice.

Teresa Davenport
14:15 15 Sep 23
Always professional and personable.

Stan Dickhoff
14:05 15 Sep 23
Jenna was great - encouraging, pleasant, and gentle.

Robert Mead
14:03 14 Sep 23
This dentist is very professional.

Angie Ramacher
02:03 14 Sep 23
Always a pleasure to be treated by your staff. When I am there, I consider you and your staff family.

John Budde
03:25 10 Sep 23
All of my experiences there have been great, & this one was no exception. Debbie has always been my caregiver. She couldn't be more personable or conscientious!

Beverly Zehrung
21:17 09 Sep 23
Dr. Gunderson and staff are very caring, explain everything they are doing and do excellent work.

Jim Plampin
15:40 08 Sep 23
Love my hygienist! Dr. Gundersen and everyone in his office are super professional and friendly!

Anar storage
15:15 08 Sep 23
Good cleaning and very gentle

Impressive dental service. Highly recommended!

Very good visit, as always the station was spotless, Kari was friendly and professional, Arne is always very efficient.

Jay Christianson
14:44 02 Sep 23
If you are looking for a new dentist, this is the place. Great staff, fantastic service/care. Go, you will not be disappointed.

Mark Sherman
13:13 29 Aug 23
Kind, caring, & gentle dental care. Recommend highly.

Susan Larson
15:02 25 Aug 23
I was concerned about a tooth and they got me in the same day!

Susan Reynolds
14:05 25 Aug 23
I have been a patient of Gunderson Dental for at least 20 years. The dedication and care from Dr. Gunderson and his staff is what keeps me coming back. I recommend them to anyone who is looking for a professional, caring, and confident team. I guarantee you will leave with a smile on your face.

Bobbie Jo Mager
14:09 24 Aug 23
Wonderful experience! Nice and friendly staff. I would definitely recommend Dr. Gundersen's office.

Dave Rodgers
15:39 12 Aug 23
Great service and care, as always!

Lavon Watson
13:51 04 Aug 23
Good folks from the front of the house to the back. Jenna deserves special credit for doing a thorough, yet gentle, job with deep cleanings. Had a scheduling snafu and she volunteered to work late so I could be seen promptly. Thank you, Jenna!

gunnar johnson
01:51 04 Aug 23
Quick, courteous and thorough. Appreciated all safety precautions

Chris Gundersen
18:46 31 Jul 23
I had my teeth examined and cleaned by Debbie the other day and had such an excellent experience. She is gentle but thorough, and explains everything fully. She has a very positive pleasant and friendly demeanor, making the experience comfortable. My teeth feel great when I leave!

I saw Debbie again yesterday for my teeth cleaning and xrays. As always she is on time, friendly, professional, gentle and thorough. She is an excellent hygienist and kind person, makes me feel welcome and comfortable. I highly recommend her!

Debbie VanVelzer
15:50 28 Jul 23
Wonderful people, explaining all that needs to be done and addressed all my concerns And a plan to fix alllllll which I've never had a dentist take that much time and do a thorough job 😁❤️🍦Highly recommended 😁❤️

crystal rogers
15:16 28 Jul 23
Everyone at Gundersen Dental Care acted with kindness, respect, and professionalism. I will definitely be going back!

Cassidy Smith
15:31 20 Jul 23
Always friendly and professional!

Amazing staff! Great experience, felt very well taken care of. Highly recommend!

Mary Luther
15:07 12 Jul 23
I had a temporary crown replaced and there was no pain or discomfort! Dr Gundersen is gentle

Phyllis Anderson
23:24 07 Jul 23
A pleasant experience. Took efficient care of business, Answered questions and provided helpful suggestions about oral health care.

I can't recommend Dr. Gundersen and his staff any more. I avoid the dentist at all costs and hadn't established care after moving back to the South Sound. It caught up with me and I needed to be seen quickly.I called a couple of other clinics and they wanted me to call and make sure my insurance was taken, or couldn't see me for months.The front desk at Gundersen Dental was beyond accommodating and kind. I was able to get in on a cancellation the following day and my good experience continued when I walked in the door. They didn't make me feel badly for having been a dental visit slacker and were friendly and professional. I feel confident in the plan Dr. Gundersen created and walked out feeling so so relieved that I have a dentist for as long as he continues to practice!I really cannot recommend their office more.

Jessica Reese
16:47 30 Jun 23
Staff is always cheerful and accommodating. Dr. Gunderson is the kindest and best dentist I've ever had work on my teeth. I ignored my dental health for years for fear of dentists. I no longer miss appointments.

I felt like Dr. Gundersen explained everything thoroughly and in a way that made sense. The rest of the staff were amazing and polite as well. Deb did my cleaning & was very gentle, made sure I was comfortable & super nice.

Kaysee Svendsen
15:01 23 Jun 23
Great job as usual you guys. Thanks!

Joseph Granger
16:15 22 Jun 23
I had a very good experience at my dental cleaning. The team works to keep my teeth and gums in good shape and gives me sound advice. Dr. Gundersen has been good to do some preventive work that others have shied away from.

David Matthews
14:19 21 Jun 23
The appointment was on time. The hygienist was professional and friendly. The cleaning and consultation were thorough and they listened to and answered my questions.

Liz & Jim Sedore
17:30 09 Jun 23
Everything about this dental practice is great!

Marilyn Krause
14:13 08 Jun 23
Totally cool time! Thanks!

Paul Edwards
15:02 04 May 23
Thorough AND painless. At 70 years old, I'd like to keep my teeth and appreciate working with a great team. The exam includes checking for any signs of oral cancer, part of preventive medicine and early detection. Brushing, flossing, and use of water pic were re-enforced.

Garry Brown
14:13 28 Apr 23
Excellent customer service and friendly staff. I appreciate that Dr. Arne takes the time to explain everything. If you are looking for a dentist, I recommend Gundersen Dental Care. They will treat you right.

George Sharp
15:02 27 Apr 23
Competent, professional, caring concerned Dentist and staff! 😁

Very well run clinic. Dr. Gunderson and staff were very thorough and professional.

Warren Foster
13:55 20 Apr 23
Always a great experience with all the staff and Dr. Gundersen.

Andi Weiks
15:39 12 Apr 23
Professional, friendly staff they take good care of you.

Brent Avery
14:31 01 Apr 23
I have been a patient here since before Dr. Arne started working alongside his Dad, George. From Patty running the office to Kerri my hygienist, plus both docs; impeccable service, maintenance, and management of my oral health - for 25+ years! Look no further for a lifelong dentist for yourself and your family, where you'll hear all of the options and get to make the best choice as you incorporate their expertise and experience into your decisions about your only set of teeth ever!

Amy Sauerlender
02:44 18 Mar 23
Very professional and caring staff!!!!

Jody Luedecker
17:41 10 Mar 23

David Bartlett
15:12 09 Mar 23
The technician is a very friendly person with a gentle touch.

Hannele Buechner
15:29 08 Mar 23
They took the time to get to know me and know my dental concerns and pain fears. The doctor answered my questions and addressed my concerns. I really appreciate this teams patient care.

Cristina Holland
23:51 05 Mar 23
Went in for a cleaning yesterday, it was time for x-rays, and Dr. Gunderson found two molars that were badly in need of a crown, one of them was from a former "budget" dentist who had done a poor job of a crown only three years ago. I'm grateful for all the staff at this office.

Linda Lawson
16:55 04 Mar 23
EVERYBODY there is absolutely amazing. Patty was a lot of help and walked me through everything. Which was incredible helpful. Just all in all really good people

Kelly Creekpaum
00:21 16 Feb 23
Great dental care. I've been going to Gundersen Dental for close to 15 years and have always had a good experience.

Natasha Box
15:09 15 Feb 23
Friendly and professional office. My first impressions were good and my first exam was thorough but easy. Dr. Gundersen and his staff communicate well.

Rachel Hof
18:44 09 Feb 23
I've received excellent care from Gundersen Dental Clinic for years and highly recommend them.

Mike Polodna
15:26 08 Feb 23
Dr. Gundersen's office has been a really great dentist and I'm so glad I found this office after moving to Olympia from out of state. Definitely recommend.

Becky Garnett
16:49 31 Jan 23
FANTASTIC. GREAT customer care.

Great customer service and gentle cleaning.

Donna Davis
23:39 22 Jan 23
Excellent Service. Debbie is the best. Very Happy with the service.

Peter Lichtblau
17:43 17 Jan 23
Dr Gundersen and staff are thoughtful, gentle and kind. They continually ask how I'm doing. I'm gratefulto be in their care!!

Carol Nemeth
01:08 14 Jan 23
Good people here, they care about your health and don't judge you for not coming in as often as you should. I highly recommend the entire staff. Don't put off coming in any longer

Thorough and meticulous cleaning,. Thank you!

Dawn Wilson
14:26 23 Dec 22
Very friendly office. Great care given.

MAINTAIN YOUR ORAL HEALTH
Improve hygiene habits and enjoy a gentle cleaning with our team.